🇺🇸 Free FedEx 2-Day Shipping on orders over $35
🇨🇦 🇲🇽 Free FedEx Priority shipping on orders over $45 (3-6 business days). 
🌍 Free FedEx International shipping on orders over $50 (3-6 business days).
🛃 Taxes & Customs collected at checkout
- Hyper realistic
- Easy Application
- Skin-Safe
- Tattoo(s)
- Instructions
- Tattoo Insurance (100% Customer Satisfication)
Customer Reviews
60
reviewers would recommend this product
Write a Review
01/23/2023
KrizzyM

Philippines
I recommend this product
affordable
This Fly Together temporary tattoo from Momentary Ink is gorgeous. I've modified this numerous times from https://wannabeink.com/collections/full-sleeve-temporary-tattoos and added extra information about the birds. Because they are intriguing and lovely, people like birds. Our close pals are the birds. They assist us in maintaining a healthy ecosystem and serve as a reminder of the passing of the seasons. Numerous bird species have coexisted with humans and assimilated into our civilizations. Some animals have been given spiritual connotations throughout history because of their unique characteristics. They serve as our inspiration for writing poetry, songs, and other works of art. For many individuals, particularly ladies, the bird tattoo has become one of the most well-liked tattoos in the current tattoo trend.
09/02/2020
Krista F.

United States
I recommend this product
Not bad
Colors are bright and overall it's nice but the placement of the bird/flower on bottom is weird. The bird is oddly drawn. I cut that part off and it looked better. Started peeling at the edges the second day.
08/24/2020
Shaina F.

United States
I recommend this product
It's beautiful
Cant wait to put it on i can tell it will be so pretty
05/04/2020
Melanie D.

United States
I recommend this product
Good for money
I loved the ease of application, and the look of the tattoo! Exactly what I wanted, until I took my first shower and it got sticky less than two days after application. I had to remove it before day 3. As it wasn't very expensive, I wasn't expecting too much, but it was nice to be able to see if I liked it before committing to a real one.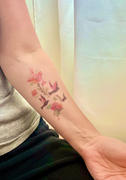 01/20/2020
Nicole L.

United States
I recommend this product
Just Ok!
I really loved the packaging, design, and application process. However, it was so sticky when it started rubbing off and was very hard to get off, even with rubbing alcohol. Cool product, but could use some improvements :)